Mark Pelfrey - Lead Pastor
Pastor Mark and his wife Angela, founded Collision Church in 2016. With a calling to reach the "unchurched and broken" generation, they started this church at their home. After service in various areas of ministry; some of which included Worship Leader, Youth Pastor, AWANA Leader, Church Treasurer, and Deacon, God was preparing them for the mission He was calling them to.
Here are some facts about Mark and Angela:
MARK
1. Voted best hair in highschool
2. I used to lead worship while playing the drums
3. I was captain of my HS football team
4. We currently have over 35 animals on our property.
5. I used to be an exterminator
ANGELA
1. My favorite place is Anna Maria Island, FL
2. I had a hog as an indoor pet
3. I was my HS mascot
4. By the time I am done, I will have homeschooled for 24 years straight.
5. I dropped out of college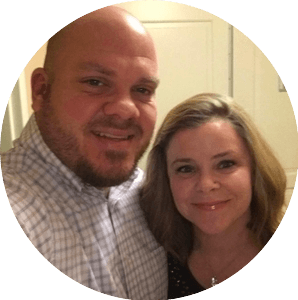 Rocky Robey - Next Gen Pastor (NGP)
Rocky serves as NGP and manages our kids ranging from babies through High School. Rocky is the perfect example of who you want for a children's/youth pastor. He isn't afraid to get dirty and dig deep to make things entertaining for the kids. From youth retreats to vbs, the fun never ends. When one event ends, he is kicking up plans for the next event. Rocky is a very organized guy and we all like to joke with him about his excel spreadsheets and 3-ring binders. Rocky is one of the most giving people you will ever meet.
So everyone can get to know you more, here are a few things about our NGP!
1. Sushi is my favorite food
2. I've been to 49/50 states
3. I was a flight attendant
4. I love roller coasters
5. I have an Elmo tattoo
6. My real name isn't Rocky but it's what everyone calls me.